Remember, you can watch Professor Fred's Movie Marvels, Fridays at 9pm and Midnight and Saturdays at 3pm on SCCtv -
Comcast Ch 28, CenturyLink Ch 8005 (HD Ch 8505), Wave Broadband Ch 19 and to the world via live simulcast at www.scctv.net.!!
December 2 and 3
Night Tide
(1961)
Horror, Romance, Thriller
Released February 1, 1963 (United States)
Starring Dennis Hopper, Linda Lawson, Gavin Muir
Directed by Curtis Harrington
Written by Curtis Harrington
A young sailor falls in love with a mysterious woman, performing as a mermaid at the local carnival. He soon comes to suspect the girl might be a real mermaid, who draws men to a watery death.
December 9 and 10
Dead Men Walk
(1943)
1h 4min
Drama, Horror, Mystery
Released 12 April 1943 (USA)
Starring George Zucco, Mary Carlisle, Nedrick Young
Directed by Sam Newfield
Written by Fred Myton
The twin of a kindly small-town physician returns from the grave for vengeance against his brother, who secretly killed him because the twin served Satan.
December 16 and 17
Valley of the Lions
(1961)
1h 34min
Action, Adventure, Drama
Released 1963 (USA)
Starring Ed Fury, Moira Orfei, Alberto Lupo
Directed by Carlo Ludovico Bragaglia
Written by Giuseppe Mangione, Giuseppe Mangione
The evil dictator Ajak sends his armies to attack a neighboring kingdom, and during the battle, the besieged King Annurius orders one of his subjects to take his son Ursus to a place of safety outside of the city, after first putting a royal medallion around the baby's neck.
December 23 and 24 - A Double Header!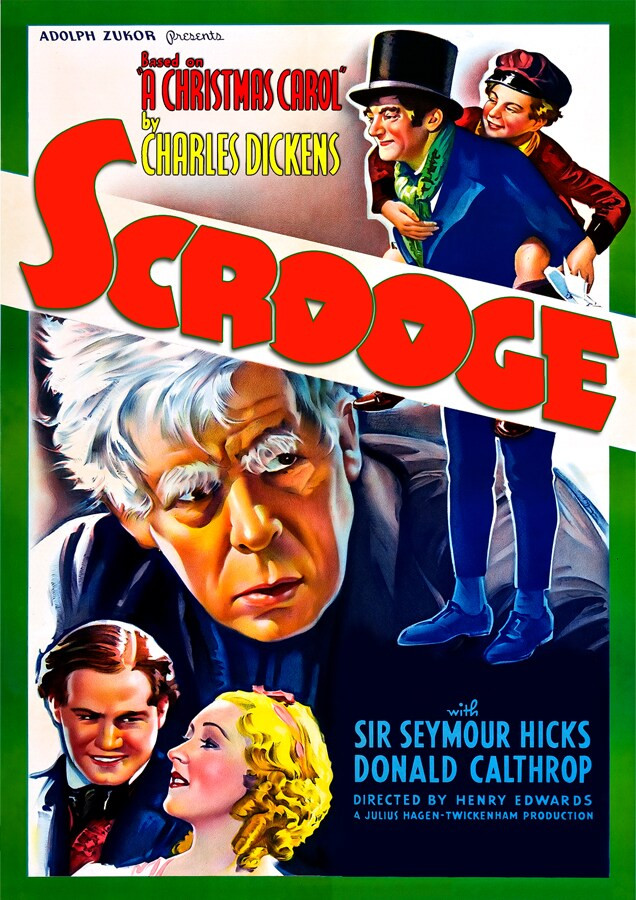 Scrooge
(1935)
Starring Seymour Hicks, Donald Calthrop, Richard Cochran
Directed by Henry Edwards
Written by Charles Dickens (A Christmas Carol by) H. Fowler Mear(scenario)
Scrooge is mean old miser who wants nothing to do with Christmas. The Ghosts of Christmas Past, Present and Future appear to Scrooge, taking him on a journey into the very spirit and magic of Christmas itself.
Santa Claus Conquers the Martians
(1964)
Adventure, Comedy, Family
Released November 14, 1964 (United States)
Starring John Call, Leonard Hicks, Vincent Beck
Directed by Nicholas Webster
Written by Glenville Mareth, Paul L. Jacobson
The Martians kidnap Santa Claus because there is nobody on Mars to give their children presents.
December 30 and 31
The Terror
(1963)
Starring Boris Karloff, Jack Nicholson, Sandra Knight
Directed by Roger Corman, Francis Ford Coppola (three or four days director) (uncredited), Jack Hale (one day director)
Written by Leo Gordon(screenplay by)Jack Hill(screenplay by)
A French Army officer, Lieutenant Duvalier, has been separated from his unit and receives help from a mysterious woman. He follows her to the castle of Baron Von Lepp only to find that she is the Baron's wife who died 20 years ago.