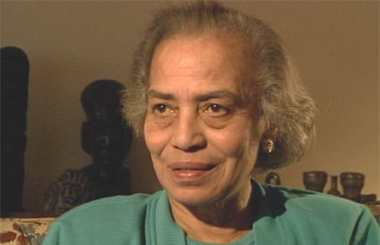 You can watch the 30-minute special on SCCtv (Comcast Ch 28/Millennium Ch19) or the simulcast on our Web site, www.scctv.net.? The special will air throughout February on Fridays at 7:30pm, Saturdays at 7:00pm and Sundays at 8:00pm.
Growing up in Washington state 70 years ago, Roberta?longed to become an educator, but?the doors to a teaching career were virtually?barred to African-Americans at that time. Fortunately, she didn't give up hope, and went on to become the first woman and first?person of color?to preside over a major Seattle high school.
In addition to her?leadership in the areas of?education and civil rights, Roberta moderated the television show Face to Face. Launched by KCTS?9 and later aired on KING TV, the regional series was the first to consistently?explore issues of concern to minorities. Many of the episodes from?the?1960s and 1970s remain just as relevant today: "Unemployment: The Great Leveler," "Forget the Rhetoric, It's The Teacher Who Makes the Difference," "OK, So I Am Elderly" and "Boomerangs of the Housing Boom."

About the host, Seattle Post-Intelligencer columnist Emmett Watson wrote, "Roberta Byrd is far and away the most intelligent and incisive of our TV personalities," while Governor Daniel Evans praised Face to Face as "an example of television at its very best."
Originally created in the 1990s, Walkinshaw's series Remarkable People now revisits the impact of Face to Face, a program she produced. Using footage from the original program and an extensive interview?conducted with Roberta shortly before her death in 1993, Walkinshaw creates a fascinating look at a nearly forgotten public figure who worked to find answers and helped keep us informed during a tumultuous time.
Previous Remarkable People subjects include Pulitzer Prize-winning poet Theodore Roethke, mountain climber Jim Whittaker, retired Microsoft executive and philanthropist Scott Oki and singer Pat Wright, founder of the Total Experience Gospel Choir.?

For over 40 years, Jean Walkinshaw has been telling human stories, most rooted right here in the Pacific Northwest, leading to eight Northwest Regional Emmy Awards. In 1992, she was inducted into the National Academy of Television Arts and Sciences Silver Circle for 25 years of significant contribution to the?TV industry and community.